Did the Nigerian president, Goodluck Jonathan, divert $1 million from an anti-poverty program to finance a trip to Lagos by American pop stars Beyoncé Knowles and her husband Jay-Z?
Video of Beyoncé singing the Nigerian Anthem.
A document recently released by SaharaReporters, a group of well-regarded and some famous Nigerian journalists, some of them dissidents forced to flee the country, seems to indicate that he did.
And the report has sparked an angry debate among Nigerians.
The charge is that in 2006 as governor of the oil-producing Bayelsa state, Mr. Jonathan robbed the very poor in his state to help pay the very rich Americans, to burnish Nigeria's image abroad.
There is no indication that Beyoncé and Jay Z, who thrilled crowds in Lagos, Nigeria's largest city, knew that their visit could have been paid for, in part, by funds designated to ending abject poverty.
But when she performed this rendition of Nigeria's national anthem, photos of Bayelsa state appeared on the screens behind her. You can see her thrill the audience above and here, singing live as it were.
This charge comes on the heels of reality star Kim Kardashian flying into Lagos for a Valentine's Day event she "co-hosted" for a reported $500,000.
Her entire contribution was a brief appearance and a two-word greeting to the well-heeled crowd: "Hey Naija," slang for "Hey, Nigeria. She took off immediately after. Folks are wondering where the money to fund her appearance came from.
While many Nigerians are outraged, Mr. Jonathan's administration has remained mum on the issue. But Nigerian press accounts revealed this month that in recent years, the administration paid up to $60,000 to contract a American public relations and lobbying powerhouse.
As president, Mr. Jonathan has worked hard to try to burnish Nigeria's image abroad, even as millions of Nigerians remain mired in poverty in his home state and the country at large.
Sahara Reporters points out that "according to the Nigerian Bureau of Statistics, 47 percent of Bayelsans live in poverty. The World Bank says that per capita gross domestic product in the Niger Delta is significantly below the country's average. According to the state's own 2005 development strategy, 80 percent of rural communities have no access to safe drinking water."
Mr. Jonathan's efforts — even his successful ones — are not always impressive. The January interview with CNN's Christiane Amanpour from Davos, below and here, was not widely seen as one of his finer moments.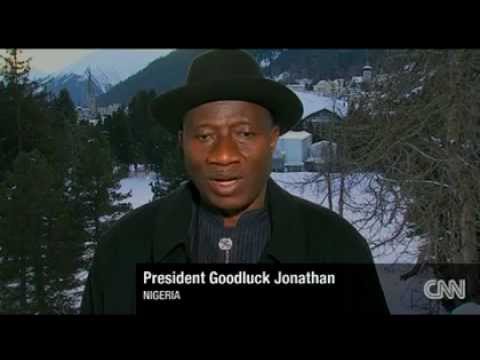 The Beyoncé concert was organized by Ndukka Obaigbena, a publisher whose efforts to wrangle money from government entities for his jamborees, as well as his high-profile media portrayals abroad have been called into question.
More importantly, the image of Nigeria as a haven for poverty and corruption on the continent — and terrorists — doesn't appear to be on the verge of changing soon, as Britain sends bombers to Nigeria and the Obama administration sends drones next door.
But maybe through film, and soft power Nigeria can be rebranded. On Friday, on the eve of the Academy Awards, for the first time a Nigerian film from the country's Nollywood industry was released in U.S. movie theaters.